Antibacterial Cleaner For Washing Machine (1box = 10 Units)
Powerful Decontamination Cleaner
Improves washing efficiency without damaging it. Our antibacterial tablets are easy to use, more powerful than any other cleanser, and quickly destroy any disease-causing odor and residue. Thanks to its triple active oxygen decontamination complex, it quickly penetrates and disintegrates all dirt while suppressing 99% of bacteria in your washing machine.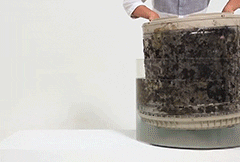 HIGHLY EFFECTIVE ANTIBACTERIAL
Our washer cleaner kills over 99.9% of bacteria and other pathogens in less than 20 minutes. Our capsules have a 1: 100 dilution ratio, which means you can use one capsule per washing machine. This will allow you to effectively remove stubborn dirt and chlorine. We recommend using one capsule every 2-3 weeks to keep your machine safe and clean. Capsules have a shelf life of 2 years from the date of production.

POWERFUL DEEP CLEANING - These tablets are smaller and thinner than regular tablets, allowing them to penetrate, dissolve and break down blocked mold and debris.

KILLS ALL BACTERIA - Our washer cleaner kills 99.9% of bacteria and other pathogens in less than 20 minutes. With a 1: 100 dilution ratio of product to water, it effectively cleans and purifies, keeping your washing machine cleaner and fresher.

FOR ALL WASHERS - Safe to use with Front Load Washers and Top Load Washers - Conventional and High Efficiency (HE) washers. Safe septic tank.

CONVENIENT USE - Empty your washing machine, put in 1 tablet and program the "clean washing machine" or "rinse + spin" cycle and wipe off any residue. It is not necessary to disassemble the washing machine. You can quickly get a clean washing machine and enjoy bacteria-free laundry.

ECOLOGICAL AND SAFE FOR ALL TYPES OF CLOTHING - Your fabrics will never be damaged. Our formula protects the integrity of your clothing and makes sure every load comes out really fresh and clean.
HOW TO USE:
1.Put a tablet in the empty washing machine.
2.Turn on the washing machine and let it spin for 15-20 minutes, turn it off and let it rest. (For best results, let the water sit in the washing machine for 30 to 60 minutes.)
3.Turn the washing machine back on and finish the cycle.
4.Repeat once every 2-3 weeks.
Product Parameters 
SPU: BKV0083
Color: As picture
Size: 1box = 10 Units